The programs of the Estonian National Museum no doubt reflect the resourcefulness of its staff and the fact that they are familiar with their visitors' needs.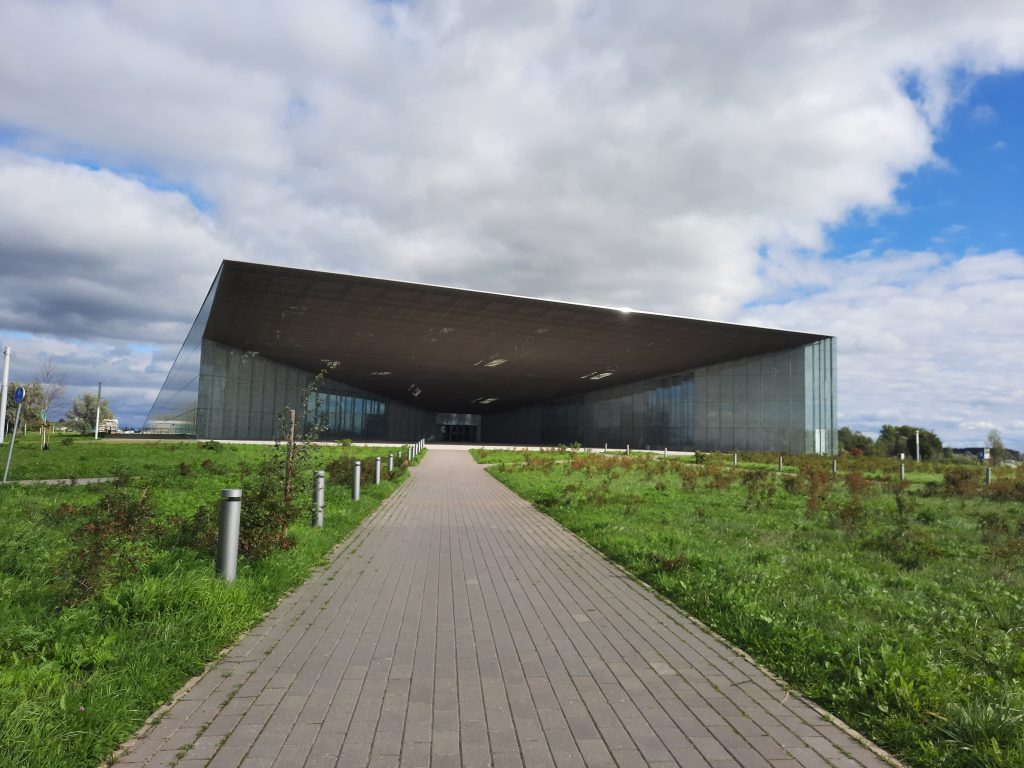 The museum was a topic of discussion both in Estonia and abroad even before it opened. Located at an abandoned Soviet airport, the otherworldly building looks like a runway, and the huge park around it is not typical, either. To top it off, there is a pilot project where an autonomous minibus that uses sensors runs as a shuttle between the national museum and the city museum. Past and present come together in a unique way, creating a special atmosphere for our visit.
We finally met the head of the education in person. Kaari Siemer and her colleagues showed us around in the exhibition halls that were named after famous researchers and museologists.
After greeting one another and a short talk, we could take part in a popular program that is fun both for children and adults. We had to find and draw items in the permanent exhibition that were similar to what we have at home, or were very different—or that we did not know at all. We used these items to talk about Hungarian and Estonian culture in a spectacularly and practically furnished activity room. After that, we baked in the seminary room. This was, in a sense, an introduction to the next topic and presentation. While doing so, we discussed the everyday aspects of our work: autonomy in the field of knowledge transfer, project work, pandemics, solidarity among museum educators, training, and much more. These informal conversations are very important as they have provided us positive feedback about our practices and future plans several times.
Many ethnic groups live in Estonia, many foreign students attend Estonian universities, and interethnic marriages are becoming more common. A program was launched in 2018 where participants can learn about Estonian culture and discover Tartu. They meet twice a week for approx. 4-hour long sessions with specific topics: Estonian culture, history, language, music (from folk to pop), Estonian independence, everyday life, films, Estonians and nature, dances, songs, food, walks, visits to other public collections. The next course starts on 21 September and ends on 5 October. Participants receive a certificate at the end of the course; the attendance rate is approx. 80%. There are groups where participants are from 14 different nations.
A special part of the closing of the program is a meal that participants share. Everyone brings a dish that represents their culture and traditions. In the seminar room, they can also prepare a dish together, choosing one of the centuries-old recipes. Karask is a type of bread made with baking soda and is considered more a kind of pastry. The word bread is very important in the Estonian language and in the expressions they use. It has a symbolic meaning that people are family if they "live on the same bread", and if you tie the knot, "your bread is in the same place".